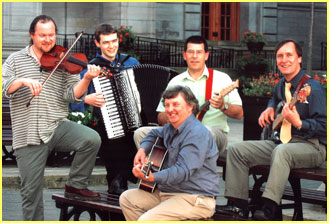 The Gallivanters are professional musicians and have been established as a band for over 15 years. During that time we have played many weddings, ceilidh dances, weddings, birthday parties and corporate events.
We are a five piece Ceilidh Band based in Perthshire comprising both accordion, double bass, fiddle, guitar, mandolin and whistles. The combination of instruments gives a bright and vibrant yet traditional sound.
We play a variety of Scottish and Irish tunes for dancing as well as singing Scottish, Irish, Country and even Beatles songs. Our lively and energetic caller, Brian will call and show the dances and interact with the guests to encourage them to join in so that everyone has a good time at the ceilidh dance party.
As well as playing in the band, some of our members present programmes on local radio, play in other bands, run tutoring classes in guitar and accordion and act as promoters for other musicians. Disco and background music can be provided with/without lighting if required.
Why not contact us on 01738 783585 or mobile 07970034697
e-mail: info@thegallivanters.com