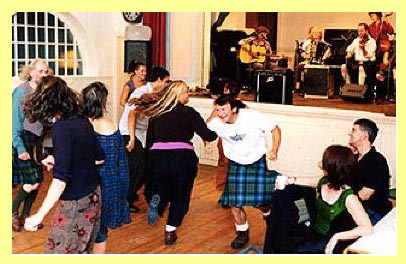 20th Orkney Folk Festival
"A ceilidh dance band from the Perthshire area which now features the Westray One Step among their varied dance sets, courtesy of a chance encounter with an Orcadian hockey team in Dundee!!
A SCOTTISH DAUGHTER- IN- LAW
"Tartan kilts swirled, sporrans bobbed up and down as we danced and swung to the lively tunes of the Gallivanters Ceilidh Band . This exuberant Scottish Ceilidh was held in the Caledonian Hall of the Botanic Gardens in Edinburgh to celebrate the wedding of our second son Toby and his lovely Scottish lass Penny. The Scottish Ceilidh dances are wild and exuberant and seem to involve hundreds of people swinging and swirling for ever and ever. We danced the Gay Gordons, Dashing White Sergeant, Flying Scotsman, Strips of Willow, Irish and Scottish 8 hand reels and a Canadian Barn Dance which Pennyís Mum remembered dancing during her summer holidays on one Scotlandís western isles to the gramophone of Dougie the Boatman! We had the best fun and partied into the early hours."
Wedding Dunkeld House
Just a note to say a huge "Thank You" for your playing at our wedding at Dunkeld House, the band were absolutely brilliant and did a great job of getting everyone on the dance floor. All our guests said how much they enjoyed the ceilidh and we thought it was the best wedding party ever. With thanks and best wishes Eilidh Gillespie and Nick Byrne.
Why not contact us on 01738 783585 or e-mail
info@thegallivanters.com